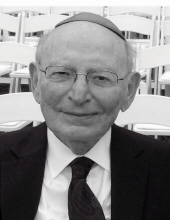 Obituary for Stanley Hersh
On Tuesday, February 13, 2018, a great luminary left this world when Dr. Stanley Hersh passed away peacefully at his home. Services will be held on 1:30 p.m., Thursday, February 15, at Congregation Agudath Jacob, 4925 Hillcrest Drive, with Rabbi Ben Zion Lanxner, followed by graveside services and interment at Congregation Agudath Jacob Cemetery, located at 1400 Garden Street.

He enhanced the lives of countless people. A true Renaissance man, he was a family patriarch, ophthalmologist, philanthropist, fundraiser, violinist, golfer, writer, editor, poet, orator, cantor, runner, humorist, scholar, artist, and philosopher – especially during his final years on earth. He was known for his intelligence, integrity, generosity and dry wit. He always strove for excellence and had a special way of influencing others to do the same.

Stanley Hersh, born in Boston, Massachusetts, on June 3, 1931, and raised in Cleveland, Ohio, inherited a strong work ethic from his parents, child immigrants from the Eastern European province of Volynia. Sixty six years ago, at the age of 19, Stanley and his 18-year old wife, Florence (nee Budin), were married at Heights Temple in Cleveland. This was shortly after Stan began medical school at [Case] Western Reserve. While in school, he held numerous jobs, often more than one at a time, to provide for his growing family. He loaded milk bottles (the most difficult job he ever had), worked on a production line making 57 Chevy water pumps, and managed the medical school bookstore - his favorite job. In 1957, his last year of medical school, he joined the Army Medical Corp Reserve Unit 464th as a second lieutenant in the hospital unit.

Stanley interned at Boston City Hospital and was a Harvard Fellow from 1958-59. After completing his residency in 1961, the Hersh family gave up brutal Massachusetts winters and moved to Texas. In Waco he began his ophthalmology practice on Colcord Avenue, which grew to become a six-ophthalmologist practice known as Waco Eye Associates. During his 54 years of practicing medicine, he performed more than 7000 surgeries. Devoted patients still speak fondly of the classical music streaming into his examination and operating rooms, and his ability to perform eye exams in Czech and Spanish. Dr. Hersh served as Chief of Staff of Providence Hospital in 1977, and was Chief of Ophthalmology at Hillcrest Hospital in 1988.

Charity was near and dear to his heart. Nationally he served in various leadership positions including the United Jewish Appeal (UJA) and the Jewish National Fund, recently serving as JNF President Emeritus of the Southwest Region until his death. Locally he served as 10-time President and 25-year board member of the Jewish Federation of Waco Texas. Dr. Hersh was also a 9-time president, 10-time vice president, and treasurer and board member of Congregation Agudath Jacob for over 45 years. He supported numerous Waco charities and accomplished much locally for Waco community relations between Jews and those of other faiths. He was always eager to teach valuable Jewish life lessons to friends, and students in Baylor University religion classes.

The Hersh home was the central hub for his tightknit family. Florence and Stanley always had a weekly, Friday night Sabbath dinner, and also hosted Jewish holiday celebrations. In addition, for more than 50 years, every Monday night the Hersh home was filled with string quartet music with Stanley as 1st violinist. In their earlier years, Florence and Stanley enjoyed traveling to many foreign countries, most especially Israel. In subsequent years, as members of the Lotus Club, a literary society, they made frequent visits to New York with their children and grandchildren attending more than 70 Broadway shows.

Dr. Hersh, an avid reader and bibliophile, always met his goal of reading 100 books annually. After his retirement in 2011, he especially enjoyed seeing past patients around town, always remembering names, intergenerational family histories and medical conditions. Dr. Hersh was most proud of his family legacy - his children and grandchildren - and their involvement with Jewish non-profits and other charitable organizations, and his lasting influence instilling within them their own philanthropic responsibility. He lived by example, reminding us all that we are a part of something much bigger and far more important than ourselves. He will be greatly missed, and forever remembered. May his memory be a blessing.

Dr. Stanley Hersh, leaves behind his wife, Florence; three daughters, Judy, Debbie and Cheryl Hersh; five grandchildren, David Levy and wife, Jessica, Rebecca Levy and fiancé, Jason Zenner, Arielle Levy, Ben Hersh, M.D., and Michal Tannenbaum; and identical twin great-granddaughters, Tillie and Ruthie Levy.

Pallbearers will be Ben Hersh, David Levy, Ed Rosenwasser, Ken Hersh, Charles Levy, Abbye Silver, and Jason Zenner. Honorary Pallbearers are Arnold Miller, Chuck Lewis, Jeff Hunter, C. Clifton Robinson, Stan Schwartz, Jake Bauer, and Melvin Lipsitz.

For those wishing to make a contribution, please make donations to Jewish Federation of Waco, P.O. Box 8031, 76714, or Congregation Agudath Jacob, 4925 Hillcrest Dr., 76710. The family invites you to leave a message or memory in our "Tribute Wall" at www.WHBfamily.com.
Previous Events
Service
Congregation Agudath Jacob
4925 Hillcrest Drive
Waco, TX 76710
Cemetery Details
Location
Agudath Jacob Cemetery
1582 Garden Drive
Waco, TX 76706